Custom Made Earrings Giveaway
You might remember CallunaMuse from my obsessing over her dangle earrings in 2013's gift guide.  The obsession hasn't stopped and I reached out to her recently to ask if she took custom orders.  If you follow me on any sort of social media, you'll know that I'm currently wedding planning on a budget.  That means looking for things I can afford on that tight budget that don't look like I just raided a discount bin somewhere.  I was thinking maybe something like this pair but with purple instead of blue?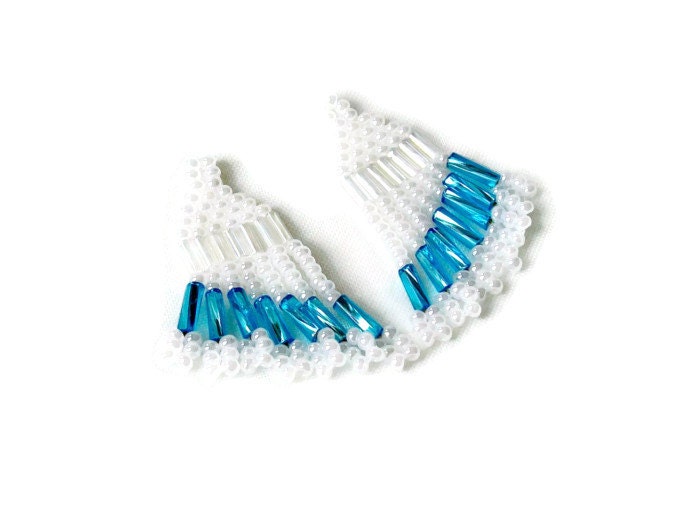 There are earrings at our local bridal store that are made of shamefully cheap metal and faux stones that look like they're going to pop out any second.  I could waste money on those, wear them once, and hope they hold up.  OR I could buy these beaded earrings for under $20 that I can re-wear over and over.  Can we say awesome to keep for anniversary dinners anyone?  I smell a tradition coming!
The earrings from Calluna Muse are always pretty dangle earrings done with small beads and now, some charms too (which she's been previewing on her Facebook Page that hopefully you'll be following along with at the end of this giveaway!).  I really like the fact that the store's owner and designer does really unique things with the beads like making flowers in the pattern by changing the strand's colors.  It's all very creative and unique, and I love that there are so many different styles available.
Heather was awesome enough to custom make me a pair of earrings that matches DeterminedMomma.com's new colors, so that we could give it away to ONE OF YOU!  Aren't they pretty?  Entries have been kept simple and organized on the little Rafflecopter for below.  You can earn yourself daily entries so make sure to check back often!  This giveaway is open to the US and Canada, through February 10th 2014.
Good luck and thanks for stopping by from myself and Calluna Muse!
This blog is not responsible for sponsor prize shipment.  Winner will be contacted via the email provided on the rafflecopter form.  Winner will have 48 hours to respond and claim prize.  If you would like to have your company featured on Diary of a Determined Momma, contact Brooke at determinedmommadiary@gmail.com.